[IPTEGRITY.com] European Parliament censors Amendment 138 verdict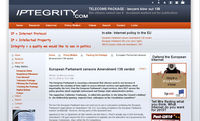 The European Parliament is censoring a document that citizens need to see because it represents the crushing of their rights to access Internet services and applications. Most importantly, the text, from the European Parliament's legal services, does NOT answer the policy question about copyright enforcement and Hadopi-style administrative justice.
The rapporteur, Catherine Trautmann, is called into question. Is she doing the Council's bidding? Is she deliberately ignoring requests from colleagues on the Conciliation committee?
The text the European Parliament does not want you to see is a document containing the European Parliament's legal opinion on Amendment 138. It is now being circulated in the European Parliament, marked 'confidential'. However, the key parts of the document have appeared on the La Quadrature du Net website (see link below). What it actually says is that technically, Amendment 138 goes beyond the EU's competence to legislate, but the alternative text proposed by the European Commission, stays within the EU competence.
http://www.iptegrity.com/index.php?option=com_content&task=view&id=422&I...