[ComputerWeekly] EU weakens net neutrality to pass telecoms reform package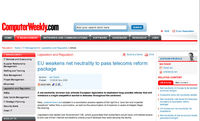 A net neutrality revision has allowed European legislators to implement long-awaited reforms that will introduce a single competitive market in telecoms throughout the continent.
New, watered-down text adopted in a conciliation process speaks of the right to a "prior fair and impartial procedure" rather than a court action, as well as the presumption of innocence in cases of alleged illegal file-sharing.
Sources close to the law-making process say the new text appears to allow the UK and French governments to persist with their "three strikes and you are out" policies to go after illegal file-sharers.
La Quadrature du Net, a net neutrality lobby organisation, said the new text aimed at protecting internet access includes positive elements. "It also contains ambiguous language and potential loopholes. This rather unambitious provision will now be up for interpretation," it said in a statement.
http://www.computerweekly.com/Articles/2009/11/06/238457/eu-weakens-net-...