[EurActiv.com] Parts of telecoms package innovation-hostile, says activist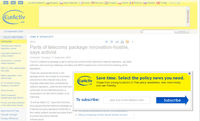 The EU's telecoms package is set to relinquish control of the Internet to network operators, say Web activists, who are busy lobbying ministers and MEPs ahead of an imminent third reading of the legislation.
There are several elements in the package which are hostile to innovation and will turn the Internet into a kind of global cable television controlled by network operators, Jeremie Zimmerman, co-founder of civil liberties group La Quadrature du Net told EurActiv in an interview.
http://www.euractiv.com/en/infosociety/parts-telecoms-package-innovation...