[WIRED] Privacy Shield Will Let US Tech Giants Grab Europeans' Data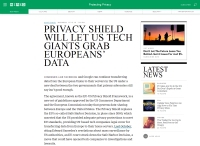 Companies like Facebook and Google can continue transferring data from the European Union to their servers in the US under a new deal between the two governments that privacy advocates still say isn't good enough.
The Privacy Shield replaces the EU's so-called Safe Harbor Decision, in place since 2000, which asserted that the US provided adequate privacy protections to meet EU standards, providing US-based tech companies legal cover for transferring data from Europe to their home servers. [...]
Privacy advocates say those protections are inadequate and want to see the Privacy Shield quashed. The ombudsperson will have limited power to fix problems and won't be all that independent since that person will report to the Secretary of State, argues Privacy International. [...]
http://www.wired.com/2016/07/privacy-shield-will-let-us-tech-giants-grab...