[Metamorphosis] EU proposal puts confidential communications data at risk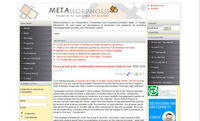 Civil liberties groups La Quadrature du Net, European Digital Rights (EDRi), AK Vorrat and Netzpolitik.org are urging the European Parliament to heed advice given by the European Data Protection Supervisor Peter Hustinx and scrap plans dubbed "voluntary data retention".
"A few months before the elections, citizens will have the opportunity to see if the Members of European Parliament are willing to protect their privacy", declares Jérémie Zimmermann, co-founder of the citizen's initiative La Quadrature du Net. "Every citizen should inform their MEPs and ask them to massively reject this article 6 (6a) of the ePrivacy directive. Other crucial issues about content and network neutrality are at stake as well.We must remind MEPs that they were elected to protect Europeans' fundamental rights and freedom rather than abolishing them in favour of particular interests."
http://www.metamorphosis.org.mk/content/view/1358/1/lang,en/