[International Herald Tribune] U.S. lobbyists angle for influence in Europe's Net neutrality debate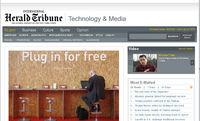 As European lawmakers debate how to keep access to the Internet free and equal - so-called network neutrality - they are being bombarded, not unsurprisingly, by lobbyists. [...]
"The U.S. companies see the outcome of the fight in Europe as key," said Jeremie Zimmermann,a lobbyist for La Quadrature du Net,an Internet advocacy group based in Paris. "Each side is hoping to score points on the issue here so they can take it back to the States to influence the outcome there."
Net neutrality, which La Quadrature supports, is a proposal backed by some free-speech advocates and Internet businesses that seeks to bar network operators from filtering Internet traffic. Operators say that basic traffic management is necessary to balance the soaring demand for bandwidth from video and popular Web sites. [...]
During the past two months, lobbyists for the U.S. operators and Internet businesses have sent letters to European Union lawmakers promoting their competing legislative agendas, according to copies of the letters obtained by the International Herald Tribune. [...]
The lack of clarity touched off a vigorous lobbying battle in Brussels by U.S. businesses on both sides of the issue, in some cases supported by European companies, including Vodafone, Ericsson and VirginMedia, and free-speech advocates. [...]
In the meantime, the lobbying focus has shifted temporarily to Belgium, where European lawmakers are closer to making a decision. Two committees are expected to vote on the legislation March 31, before a final vote by the full Parliament on April 22. The plan would also need to be approved by EU telecommunications ministers.
[...] most of the time, lobbying by foreign entities tends to be discreet. That has not been the case in the debate over network neutrality, where the high commercial stakes for operators and Internet companies have pushed competing U.S. commercial interests to the forefront.
[...] On Feb. 26, Sebastian Mueller,also a Google lobbyist, debated Karim Lesina, an AT&T lobbyist, on network neutrality in a closed-door meeting of newspaper and magazine publishers. Simon Summers, an organizer, said the lobbyists and organizers wanted to hold the debate in private. No journalists were invited, but the meeting was attended by representatives of France Télécom, Telefónica, Sony Pictures, Skype and Lagardère, as well as representatives of the European cable industry and lawmakers. [...]
"I've never seen this level of lobbying before by American companies in Brussels," said Laurence Vandewalle, a technology adviser to the European Green Party since 1997. Referring to AT&T and Verizon, she added: "They want European Parliament to take a position against net neutrality in order to sell it in the U.S." [...]
European lawmakers may postpone a decision until after parliamentary elections in June, one lobbyist said.
"It is unclear what the outcome will be," said Markus Beckedahl, a lobbyist for the Working Group on Data Retention, an advocacy group based in Berlin that has lobbied in Brussels for network neutrality. "There is still a lot of dissension and this whole debate could be pushed off."
http://www.iht.com/articles/2009/03/08/technology/neutral.php?page=1