[International Herald Tribune] Internet providers wary of being cybercops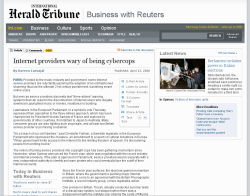 PARIS: Prodded by the music industry and government, some Internet service providers are reluctantly exploring the adoption of an old-fashioned shunning ritual as the ultimate 21st century punishment: banishing errant online users.
(...)
Lawmakers in the European Parliament, in a symbolic vote Thursday, expressed their opposition to the three-strikes approach, which has been championed by President Nicolas Sarkozy of France and explored by governments of other countries, from Britain to Japan to Australia. Many consumer groups are also fighting such proposals, and at least one British service provider is promising a rebellion.
"It's a breach of our civil liberties," said Christofer Fjellner, a Swedish legislator in the European Parliament who sponsored the measure, an amendment to a report on cultural industries in Europe. "When government limits access to the Internet it's like limiting freedom of speech. It's like banning people from printing books."
(...)
"We believe it's a threat, particularly to public liberties," said Christophe Espem, co-founder of a French group, Squaring the Net, formed to challenge proposed Internet restrictions. He noted that the new administrative authority that would rule on offenses would be outside the legal system.
http://www.iht.com/articles/2008/04/13/business/ISP14.php?page=1