[ZDNet.co.uk] MEPs back common European spectrum policy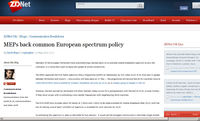 Members of the European Parliament have overwhelmingly backed plans to co-ordinate mobile broadband spectrum across the continent, in a move that could increase the spread of online connectivity.
Digital rights organisation La Quadrature du Net offered an enthusiastic reaction to the passed bill, noting that it supports shared and unlicensed use of spectrum, and therefore "paves the way for the development of the next generations of free wireless internet communications".
Amendments included in the adopted text encourage the use of the unused 'white spaces' between frequencies allocated to industries, as well as wireless mesh network technology, the group noted.
http://www.zdnet.co.uk/blogs/communication-breakdown-10000030/meps-back-...