[Zdnet.Co.Uk] EU looks to service providers for copyright enforcement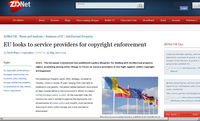 The European Commission has published a policy blueprint for dealing with intellectual property rights, promising among other things to focus on service providers in the fight against online copyright infringement. […]
"All service providers concerned have to respect an appropriate level of care in their commercial operations," the Commission added, while stressing that the approach did not mean changing the safe harbour provisions of the e-Commerce Directive, which broadly protect service providers from liability for what goes on over their networks.
Nonetheless, the digital rights group La Quadrature du Net responded to the IPR Strategy by saying it was intended to force providers to police their users.
"The goal of EU authorities is to use technical means to block communications and restrict users' access in the name of enforcing an obsolete vision of copyright. "
– Jérémie Zimmermann, La Quadrature du Net
http://www.zdnet.co.uk/news/intellectual-property/2011/05/25/eu-looks-to...