[ZDNet] Block net neutrality in new internet rules, UN urged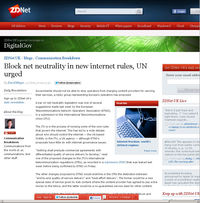 Governments should not be able to stop operators from charging content providers for carrying their services, a lobby group representing Europe's operators has proposed. [...]
Operators have long been pushing for rules that would make sure they can always strike commercial deals with content providers. However, apart from The Netherlands and Chile, there are no countries that actually prohibit this sort of behaviour — generally, the only obstacle has been the unwillingness of content providers to pay up.
The European Commission is currently gearing up to announce its own rules on net neutrality. However, much of the Commission's focus is on the deliberate blocking by operators of services that compete with their own, such as Skype.
On the kind of net neutrality referred to in ETNO's proposals, digital agenda commissioner Neelie Kroes has indicated that she has little problem with operators wanting to tier the quality of their services, as long as they are transparent about doing so.
http://www.zdnet.co.uk/blogs/communication-breakdown-10000030/block-net-...