[Wired] Why Net Neutrality's Demise Hurts the Poor Most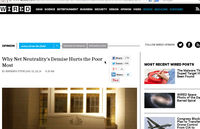 By striking down the Federal Communications Commission (FCC)'s Open Internet Order this week, the D.C. Circuit Court of Appeals just gave commercial companies the authority to block internet traffic, give preferential treatment to specific internet services, and steer internet users away from online content based on their own commercial interests. Since the internet is now the primary mechanism for delivering content and applications to the general public, it's more important than ever that commercial ISPs not have that kind of power to control or otherwise manipulate such communications.
http://www.wired.com/opinion/2014/01/killing-net-neutrality-means-killin...