[Wired] Laura Poitras on the Crypto Tools That Made Her Snowden Film Possible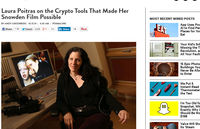 As a journalist, Laura Poitras was the quiet mastermind behind the publication of Edward Snowden's unprecedented NSA leak. As a filmmaker, her new movie Citizenfour makes clear she's one of the most important directors working in documentary today. And when it comes to security technology, she's a serious geek.
In the closing credits of Citizenfour, Poitras took the unusual step of adding an acknowledgment of the free software projects that made the film possible: The roll call includes the anonymity software Tor, the Tor-based operating system Tails, the anonymous upload system SecureDrop, GPG encryption, Off-The-Record (OTR) encrypted instant messaging, hard disk encryption software Truecrypt, and GNU Linux. All of that describes a technical setup that goes well beyond the precautions taken by most national security reporters, not to mention documentary filmmakers. […]
http://www.wired.com/2014/10/laura-poitras-crypto-tools-made-snowden-fil...