[TorrentFreak] U.S. Government Shuts Down 84,000 Websites, 'By Mistake'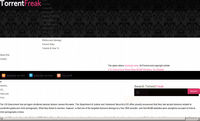 The US Government has yet again shuttered several domain names this week. The Department of Justice and Homeland Security's ICE office proudly announced that they had seized domains related to counterfeit goods and child pornography. What they failed to mention, however, is that one of the targeted domains belongs to a free DNS provider, and that 84,000 websites were wrongfully accused of links to child pornography crimes.
Most of the subdomains in question are personal sites and sites of small businesses. A search on Bing still shows how innocent sites were claimed to promote child pornography. A rather damaging accusation, which scared and upset many of the site's owners.
http://torrentfreak.com/u-s-government-shuts-down-84000-websites-by-mist...