[torrentfreak] Campaign to Stop File-Sharers Being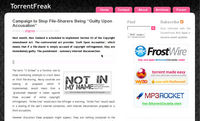 Next month, New Zealand is scheduled to implement Section 92 of the Copyright Amendment Act. The controversial act provides 'Guilt Upon Accusation', which means that if a file-sharer is simply accused of copyright infringement, they are immediately guilty. The punishment - summary Internet disconnection.
http://torrentfreak.com/campaign-to-stop-file-sharers-being-guilty-upon-...