[TorrentFreak] Australian Internet Filter Will Target BitTorrent Traffic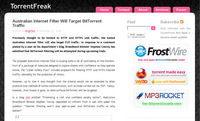 Previously thought to be limited to HTTP and HTTPs web traffic, the touted Australian Internet filter will also target P2P traffic. In response to a comment posted by a user on his department's blog, Broadband Minister Stephen Conroy has admitted that BitTorrent filtering will be attempted during upcoming trials.
http://torrentfreak.com/australian-internet-filter-will-target-bittorren...