[TheWashingtonPost] Syria using American software to censor Internet, experts say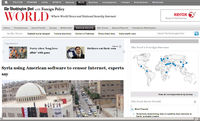 Syria is using equipment and software developed by an American company to censor the Internet and conduct surveillance of its citizens, according to data analyzed by technology experts and advocates for Syrian dissidents.
Reports of Syria's alleged use of Blue Coat products originated with Telecomix, a group founded by Swedish hackers in 2006 that has been providing support to dissidents in the Middle East.
In recent months, technology experts have alleged that Western companies are knowingly or unknowingly selling technology to authoritarian regimes.
http://www.washingtonpost.com/world/national-security/syria-using-americ...