[TheVerge] President Obama should pardon Edward Snowden before leaving office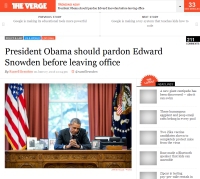 For the last three years, one month, and seven days, Edward Snowden has been living in exile from the United States. [...]
The implicit point is that if Snowden is going to come home, his best chance is a presidential pardon, which is unlikely to come from Hillary Clinton or Donald Trump. The final days of Obama's final term are the best chance Snowden has, which gives Wizner and his team a little more than six months to make their case.
Pardoning Snowden is the right thing to do, and if you care about a free and secure internet, you should support it [...]. Clemency is particularly important because it will be impossible to defend Snowden's leaks as a public service in court [...].
The president has prosecuted more whistleblowers under the Espionage Act than all presidents before him combined [...] With Snowden's push for clemency, the president has a chance to complicate that legacy and begin to undo it. It's the last chance he'll have.
http://www.theverge.com/2016/6/27/12040196/president-obama-pardon-edward...