[TheIntercept] U.N. Report Asserts Encryption as a Human Right in the Digital Age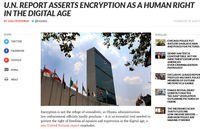 Encryption is not the refuge of scoundrels, as Obama administration law-enforcement officials loudly proclaim – it is an essential tool needed to protect the right of freedom of opinion and expression in the digital age, a new United Nations report concludes. [...]
The significance of encryption extends well beyond political speech, Kaye writes. "The ability to search the web, develop ideas and communicate securely may be the only way in which many can explore basic aspects of identity, such as one's gender, religion, ethnicity, national origin or sexuality." [...]
The United Nation's Office of the High Commissioner for Human Rights appoints expert "special rapporteurs" to be their eyes and ears when it comes to key human rights issues. Kaye, a law professor at the University of California, Irvine, began his three-year term as the rapporteur for freedom of opinion and expression in August 2014.
His report also warns that state prohibitions of anonymity online — such as required real-name registration for online activity, SIM card registration, or banning of anonymity tools such as Tor — interfere with the right to freedom of expression. [...]
https://firstlook.org/theintercept/2015/05/28/u-n-report-asserts-encrypt...