[TheInquirer] France could drop three strikes copyright law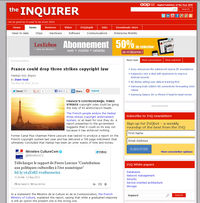 France's controversial three strikes copyright rules could be going the way of its aristocracy's heads. [...]
Protest group La Quadrature du Net called the announcement of the death of Hadopi "misleading".
"The announcement of the suppression of the Hadopi is misleading: its missions are redistributed to other entities (CSA), with the exception of the never-applied internet cut-off, and even completed by new monitoring or repressive competence. It hides the pursuit of Nicolas Sarkozy's anti-sharing policies," said Philippe Aigrain, co-founder of La Quadrature du Net. [...]
http://www.theinquirer.net/inquirer/news/2267879/france-could-drop-three...