[TheHindu] UID will result in loss of freedoms: WikiLeaks backer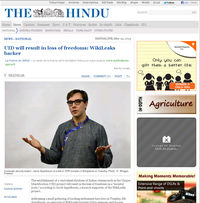 The establishment of a centralised database of Indian citizens such as the Unique Identification (UID) project will result in the loss of freedoms on a "societal scale," according to Jacob Appelbaum, a staunch supporter of the WikiLeaks project.
Addressing a small gathering of hacking enthusiasts here late on Tuesday, Mr. Appelbaum, an associate of WikiLeaks founder Julian Assange, said he was "horrified" by the establishment in India of the Central Monitoring System (CMS), which was being used to gather a diverse range of analogue and digital information, including telephone records, text messages and Internet traffic. "We live in the golden age of surveillance," said Mr. Appelbaum, a U.S. citizen who has been detained by U.S. law-enforcement agencies on at least a dozen occasions. [...]
"In theory, the Internet allows us to be free, but the fact that almost by default, the Internet is not secure implies a breakdown of this freedom," Mr. Appelbaum said. "This results in a strange situation: people have the freedom to communicate and say what they want, but does the surveillance actually allow them to be free?" [...]
http://www.thehindu.com/news/national/uid-will-result-in-loss-of-freedom...