[TheGuardian] NSA collects millions of text messages daily in 'untargeted' global sweep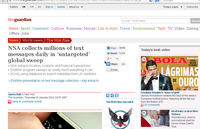 The National Security Agency [NSA] has collected almost 200 million text messages a day from across the globe, using them to extract data including location, contact networks and credit card details, according to top-secret documents.
[...] The documents also reveal the UK spy agency GCHQ has made use of the NSA database to search the metadata of "untargeted and unwarranted" communications belonging to people in the UK.
http://www.theguardian.com/world/2014/jan/16/nsa-collects-millions-text-...