[TheGuardian] Edward Snowden to broadcast Channel 4's alternative Christmas Day message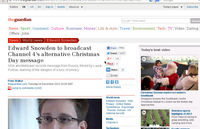 NSA whistleblower records message from Russia, filmed by Laura Poitras, warning of the dangers of a loss of privacy. [...]
Snowden says: [...] "A child born today will grow up with no conception of privacy at all. They'll never know what it means to have a private moment to themselves an unrecorded, unanalysed thought. And that's a problem because privacy matters; privacy is what allows us to determine who we are and who we want to be." [...]
"I already won. As soon as the journalists were able to work, everything that I had been trying to do was validated. Because, remember, I didn't want to change society. I wanted to give society a chance to determine if it should change itself."
"All I wanted was for the public to be able to have a say in how they are governed."
The alternative Christmas message, a counterpoint to the traditional festive broadcast by the Queen, began in 1993 with a broadcast from the writer and gay activist Quentin Crisp. Other notable participants include Iran's then-president, Mahmoud Ahmadinejad, in 2008, and a team of midwives two years later.
http://www.theguardian.com/world/2013/dec/24/edward-snowden-channel-4-ch...