[The Thursday Briefing] Torpedo Amendments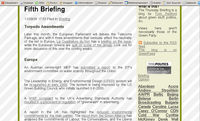 Later this month, the European Parliament will debate the Telecoms Package, and with it three amendments that seriously affect the neutrality of the net in Europe. La Quadrature du Net has a briefing on the issue, while the European Greens are split on some of the details. Look out for more discussion of this over the coming weeks.
(...)
http://www.tredford01.co.uk/thursday/files/726fae19e109f14eb6e1e9eefd3b0...