[The Register] IWF confirms Wayback Machine porn blacklisting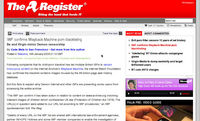 Following complaints that its child-porn blacklist has led multiple British ISPs to censor innocuous content on the Internet Archive's Wayback Machine, the Internet Watch Foundation has confirmed the blacklist contains images housed by the 85-billion-page web history database.
But this fails to explain why Demon Internet and other ISPs are preventing some users from accessing the entire archive.
According to IWF guidelines, blacklisted URLs "are precise web pages" chosen so that "the risk of over blocking or collateral damage is minimised." But multiple Demon Internet customers say they're unable to view any sites stored by the Wayback Machine. And in response to our original story on this blacklist snafu, customers of additional ISPs - including Be Unlimited and Virgin - say they're experiencing much the same thing.
In a roundabout way, this led to Wikipedia banning large swathes of the UK from editing the "free encyclopedia anyone can edit." But just days later, the IWF agreed to lift the Wikiban, though it continued to say the Virgin Killer image is "potentially in breach" of the UK Protection of Children Act.
http://www.theregister.co.uk/2009/01/14/iwf_details_archive_blacklisting/