[Telegraph] Internet sites could be given 'cinema-style age ratings', Culture Secretary says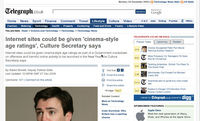 Internet sites could be given cinema-style age ratings as part of a Government crackdown on offensive and harmful online activity to be launched in the New Year, the Culture Secretary says.
In an interview with The Daily Telegraph, Andy Burnham says he believes that new standards of decency need to be applied to the web. He is planning to negotiate with Barack Obama's incoming American administration to draw up new international rules for English language websites.
His plans to rein in the internet, and censor some websites, are likely to trigger a major row with online advocates who ferociously guard the freedom of the world wide web.
However, Mr Burnham said: "If you look back at the people who created the internet they talked very deliberately about creating a space that Governments couldn't reach. I think we are having to revisit that stuff seriously now. It's true across the board in terms of content, harmful content, and copyright. Libel is [also] an emerging issue.
http://www.telegraph.co.uk/scienceandtechnology/technology/technologynew...