[TechPresident] EU Net Neutrality Vote Disappoints Everyone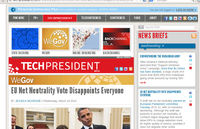 A draft law on net neutrality passed an European Parliament committee Tuesday 30 to 12, with 14 members abstaining. Although the draft law purports to protect net neutrality, it contains vague language that would allow ISPs to charge websites more for higher quality of service, provided it does not degrade other online services. [...]
The advocacy organization La Quadrature du Net has called the provisions above [in the regulation] "major loopholes."

La Quadrature du Net co-founder, Félix Tréguer said:
What is at stake in this regulation is no less than the fate of the Internet commons. Are we going to let big telecom operators and Internet giants dictate the terms of the digital economy or will lawmakers adopt strong binding principles making sure that the Internet remains a decentralized platform for freedom of communication and innovation, where citizens and new entrants can challenge entrenched players? This is the crucial question that will soon be addressed through the upcoming plenary vote, and one that citizens should ask to their elected representative in Brussels ahead of the upcoming EU elections.
http://techpresident.com/news/wegov/24839/eu-net-neutrality-votes-disapp...