[TechPresident] Amid Protests and a Court Case, ACTA Set to Come Before EU Parliament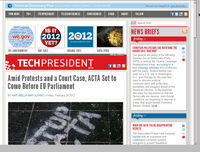 So far, ACTA has raised many concerns among European citizens who have voiced their concerns online and in the streets. A global day of protest on Feb. 11 has already garnered headlines, and a second massive demonstration has been planned for this Saturday. This is another stage of a growing grassroots movement started about a month ago, when the treaty was signed by 22 out of 27 EU member states.
Next June, the European Parliament will have to vote to ratify or reject the treaty, but what seemed to be little more than a technicality now represents a crucial moment in a public debate on Internet freedom and digital rights. [...]
Earlier this week, the French organization La Quadrature du Net launched a call to action, asking people to voice their concerns to their MEPs, in a week where they have scheduled meetings with constituency in their home countries. This was just the latest initiative of the NGO, one of the main hubs of the movement. [...]
http://techpresident.com/news/21825/amid-protests-and-court-case-acta-se...