[TechPresident] ACTA opponents welcome Germany's decision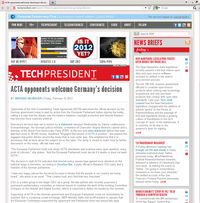 Opponents of the Anti-Counterfeiting Trade Agreement (ACTA) welcomed the official decision by the German government today to wait for action from the European Parliament before signing the treaty, calling it a sign that the debate over the balance between copyright protection and Internet freedom has become more explicitly political.
Germany's decision was set in motion by a statement released Wednesday by Sabine Leutheusser-Schnarrenberger, the German justice minister, a member of Chancellor Angela Merkel's cabinet and a member of the liberal Free Democratic Party (FDP). In the text and video statement (which has been watched close to 38,000 times), headlined "Engaged Discussion of ACTA is positive," she praises the engaged and public debate around the treaty that is now under way. She emphasizes that it is necessary that all facts about the subject be on the table. The delay is meant to make time for further discussion on the treaty, officials have said.
"The European Parliament must now study ACTA intensively and examine every open question, every point of criticism," she states. "And the European Parliament must decide if it wants or does not want ACTA." [...]
For French Internet activist Jérémie Zimmerman from La Quadrature du Net, the debate has also reached an important milestone.
"The ACTA debate is -finally- turning political," he told techPresident in an email. "Instead of arguing over every single paragraph of the agreement and its interpretation, it's the general principle of an agreement, negotiated in secret by 39 countries, that will have an impact on a Free Internet and our fundamental freedoms that is infuriating citizens," he wrote. "Only such political pressure on the European Parliament can make its Members work towards killing ACTA once and for all. Such a victory in the EP would open the door towards pushing a positive agenda in revisions of copyright laws that could for once take into account the public rights and new cultural practices."
http://techpresident.com/news/21760/acta-opponents-welcome-germanys-deci...