[Techdirt] French Government Looks To Create Great Firewall Of France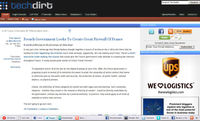 It was just a few weeks ago that Nicolas Sarkozy brought together a bunch of techies at the e-G8 to tell them that he wanted to start regulating the internet much more seriously. Apparently, he's not wasting much time.[...]
[...] the French government is proposing to give to several of its ministries the power to order the censorship of online content that harms or otherwise puts at risk public order and security, the protection of minors, of public health, national defence, or physical persons.
This isn't going to go over well.
http://www.techdirt.com/articles/20110616/01431614712/french-government-...