[Spiegel] US German No Spy Deal in Danger of Failure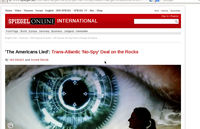 Last summer, German Chancellor Angela Merkel promised her citizens a pact which would prohibit US spying on German citizens. But since then, Washington has shown little interest in pursuing such a treaty. Now, officials in Germany fear the deal is dead. [...]
After all, her pledge to work towards a No-Spy deal was key to ensuring that the swelling debate over the American National Security Agency's mass surveillance practices didn't derail her re-election campaign last year. It was a message to voters that she and her conservatives were doing all they could to protect the data of German citizens. Both her then-chief of staff, Ronald Pofalla, and then-Interior Minister Hans-Peter Friedrich used every chance they got to promise as much.
Should she fail, it will be a black mark on her credibility and make clear just how little influence Merkel has in Washington. [...]
http://www.spiegel.de/international/germany/us-german-no-spy-deal-in-dan...