[RT] France hands down data privacy fine to Google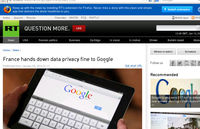 French data protection watchdog CNIL [Commission nationale de l'informatique et des libertés] fined Google 150,000 euros ($204,000) for ignoring its three-month deadline to align its practice of tracking and storing user information with the country's law.
[...] Back in June CNIL ruled that Google has breached six counts of the country's privacy laws. The biggest concern was that the company did not provide "sufficient" information to users in terms of how their information was being used and stored.