[Reuters] Protests erupt across Europe against web piracy treaty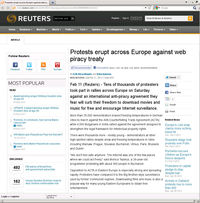 Tens of thousands of protesters took part in rallies across Europe on Saturday against an international anti-piracy agreement they fear will curb their freedom to download movies and music for free and encourage Internet surveillance. [...]
More than 25,000 demonstrators braved freezing temperatures in German cities to march against the Anti-Counterfeiting Trade Agreement (ACTA) while 4,000 Bulgarians in Sofia rallied against the agreement designed to strengthen the legal framework for intellectual property rights.
There were thousands more - mostly young - demonstrators at other high-spirited rallies despite snow and freezing temperatures in cities including Warsaw, Prague, Slovakia, Bucharest, Vilnius, Paris, Brussels and Dublin. [...]
In Paris, about 1,000 people marched ACTA. "It's a demonstration without precedent because it's taking place in all of Europe at the same time," said Jeremie Zimmermann, spokesman for Internet freedom group La Quadrature du Net. [...]
http://www.reuters.com/article/2012/02/11/europe-protest-acta-idUSL5E8DB...