[ResellerNews] EU net neutrality seen in peril from draft law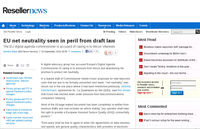 A digital advocacy group has accused Europe's Digital Agenda Commissioner of caving in to pressure from telcos and abandoning her promise to protect net neutrality.
In a leaked draft of Commissioner Neelie Kroes' proposals for new telecoms rules that are due to be formally presented next week, "net neutrality" was struck out in the one place where it had been mentioned previously. Jérémie Zimmermann, spokesman for La Quadrature du Net (QdN), said this shows that Kroes has backed down under pressure from telecommunications companies' lobbying. [...]
"The Commission would be giving telecoms freedom to enter into business deals with big content providers such as Google or Facebook to prioritize their data flows over the Internet. Such a corporate power-grab would relegate the rest of citizens and new-entrant innovators to a slower Internet with disastrous effects for freedom and innovation online," said Zimmermann. [...]
http://www.reseller.co.nz/article/525358/eu_net_neutrality_seen_peril_fr...