Paris, 19 November 2013 – The rapporteur Pilar del Castillo Vera [5] (EPP - Spain) has concluded her draft report [6] on Neelie Kroes' proposal [7] for a Regulation on the Telecom Package. Despite numerous criticisms1 made against the unacceptable anti-Net neutrality [8] provisions in the proposal, del Castillo Vera has chosen not to correct them. Before it is too late, citizens must contact [9] the rapporteur and Members of the ITRE [10] committee, and urge them to ensure the European Parliament guarantees a genuine and unconditional Net neutrality principle.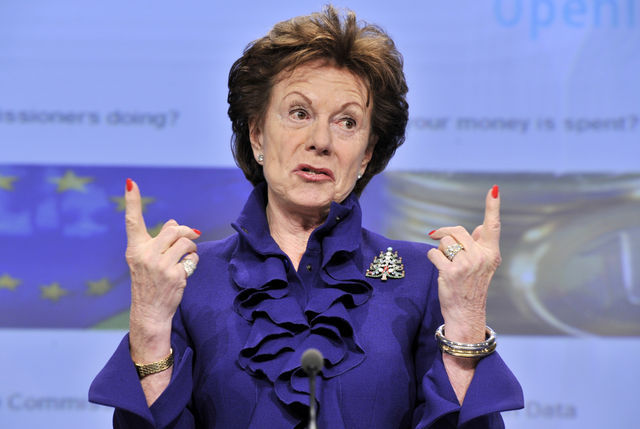 Neelie Kroes
Neelie Kroes' draft telecom legislation, pretending to defend the Net neutrality principle, actually creates huge loopholes as the text explicitly allows undue commercial discrimination by way of prioritization2. Following its difficult adoption by the European Commission3, the proposal is now in the hands of the EU Parliament, in particular the "Industry" (ITRE [10]) committee and its rapporteur Pilar del Castillo Vera [5] (EPP - Spain), who was appointed on October 10th. Despite criticisms, and especially the strong position [11] taken by the EU privacy watchdog, the rapporteur is playing Neelie Kroes' game of faux Net neutrality instead of correcting the text's dangerous flaws. While her draft report [6] proposes to remove the nonsensical provision creating a dangerous legal framework for priorisation called for [12] by big telcos4, she refuses to offer a true protection of Net Neutrality against all forms of discrimination.5.
Furthermore, in spite of the complexity and the importance of the dossier, the rapporteur accepted to prepare her draft report in only one month, agreeing to a rushed timetable6 completely unusual and dangerous for a legislative act pretending to achieve the European Telecoms Single Market7. Such a timetable – along with the parody [13] of a public consultation [14] the rapporteur opened for a few days – will result in the lack of in-depth examination of the amendments MEPs will table by December 17th and could lead to a disastrous final text.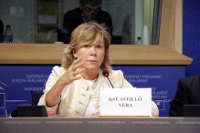 Del Castillo Vera
The rapporteur Pilar del Castillo Vera, by controlling such a procedure and further negotiating compromise amendments on the whole text, bears an immense responsibility. Either she will help to enforce Neelie Kroes' anti-Net Neutrality proposal amounting to allow discrimination of our communications, or she will play a major role in upholding true Net Neutrality protecting our freedom online if she decides to bring meaningful protections [15] against the abusive restrictions and discrimination of our communications by telecom operators.
Under such circumstances, it is necessary for EU citizens to take part in this debate in order to avoid a rushed adoption of Neelie Kroes' anti-Net Neutrality provisions. Citizens must contact [9] members of the ITRE [10] committee, and urge them to include in the final report an uncompromising8 vision of Net Neutrality, free from all form of discriminations, and protected by effective enforcement procedures and sanctions against those who violate this crucial principle.
"If the EU Parliament lets Neelie Kroes' text go through without amending its Net Neutrality provisions, the only beneficiaries will be the dominant telecom operators, at the expense of freedom of communication online and innovation in the digital economy. From now and until the final vote in plenary sitting, a few months before the European elections, citizens must contact members of the ITRE committee and all concerned Members of the European Parliament9 and urge them to guarantee a true and unconditional Net neutrality, only way to guarantee our freedom of communication online." concluded Jérémie Zimmermann, spokesperson for the citizen organisation La Quadrature du Net.
Act now!
As a citizen platform, La Quadrature du Net provides the PiPhone, a web tool allowing to call Members of the ITRE Committee free of charge:
1. As an example, the European Data Protection Supervisor stated in a press release

[11]

published on November 15th that the Neelie Kroes' proposal devoids "of substance" the Net neutrality principle "because of the almost unlimited right of providers to manage Internet traffic". Citizen organisations also widely criticized

[16]

the proposal.
2. Article 23.2: "End-users shall also be free to agree with either providers of electronic communications to the public or with providers of content, applications and services on the provision of specialised services with an enhanced quality of service."
An "enhanced quality of service" means a prioritization: a traffic management practice that, contrary to the traditional "best-effort" model, jeopardizes the equal treatment of all data circulating on Internet. It means that all that which is not prioritized is in practice de-prioritized.
3. A leaked criticism

[17]

of a draft by EU Commissioner Viviane Redding's services says for example "such limited possibilities of accessing Internet content and services of their choice would run counter to the stated objectives of the EU Charter of Fundamental Rights.": http://www.edri.org/NN-negativeopinions

[18]

4. Amendment 100 provides for the deletion of Chapter 3 – section 2, including Article 19 on "Assured service quality" (ASQ).
5. As an example, Amendment 103 proposes to add new loopholes to the Net Neutrality principle: "End-users shall also be free to agree with either providers of electronic communications to the public or with providers of content, applications and services on the provision of specialised services with an enhanced quality of service. Where such agreements are concluded with the provider of internet access, that provider shall ensure that the enhanced quality service does not impair the general quality of internet access, except as may be necessary taking into account the state of the art and technology deployed, in order to ensure the delivery of the enhanced quality service." (the text in bold was added to the initial text by the rapporteur Pilar del Castillo Vera).
End-users should be able to choose whether they want to communicate through defined QoS (by activating/desactivating the use of defined QoS at will), and which service or application providers they use through such QoS.
6. Tentative timetable:

Public Hearings in the IMCO and ITRE committees - 27-28 November 2013
Presentation of the Castillo Vera Draft Report on ITRE committee - 9 December 2013
Deadline amendments for ITRE Report - 17 December 2013
Opinion Committee votes - Mid-January 2014
Consideration of amendments - 22-23 January 2014
Committee of the Region

[19]

's plenary sitting: vote of its opinion - End of January 2014
ITRE committee vote - 27 February 2014
Final vote in Plenary Session - 2 April 2014

7. As an example, one year has passed between the introduction of the European Commission's proposal for a Regulation on Data Protection and the draft report of its rapporteur Jan Philipp Albrecht.
8. See for example: https://wiki.netzfreiheit.org/w/Net_neutrality_regulation_amendments

[15]

and http://networkneutrality.info/sources.html

[20]

(especially point 8)
9. Shadow-rapporteurs are:

Committees for opinion are: