[Pcworld] Groups to Monitor EU Telcos Restricting Online Access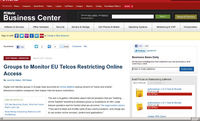 Digital civil liberties groups in Europe have launched an online platform asking citizens to "name and shame" telecommunications companies that impose Internet access restrictions.
The aim is to gather information about Internet providers that are "violating ... online freedom" according to advocacy group La Quadrature du Net. Large telecom providers want to "control what you do online," […]
"RespectMyNet.eu is an online platform enabling citizens to become the watchmen of the Internet," said Jérémie Zimmermann, spokesman for citizen advocacy group La Quadrature du Net. "Everyone is invited to report undue blocking or throttling of their Internet access and help to identify operators who engage in harmful practices." […]
http://www.pcworld.com/businesscenter/article/240478/groups_to_monitor_e...