[PCPro] EU data regulation changes would "strip citizens naked"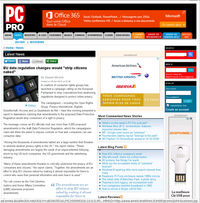 A coalition of consumer rights groups has launched a campaign calling on the European Parliament to stop corporations from weakening regulations designed to protect online privacy. The campaigners – including the Open Rights Group, Privacy International, Digitale Gesellschaft, Access and La Quadrature du Net – have this morning presented a report to lawmakers claiming that amendments to the proposed Data Protection Regulation would strip consumers of a right to privacy. [...]
"Instead of fixing this often misused ground, members of the European Parliament are proposing to extend it by including the interests of third parties as a 'legitimate interest'," the report said. "This will allow companies unknown to citizens to process personal data if the companies believe it is in their 'best interest' to do so."
http://www.pcpro.co.uk/news/381424/eu-data-regulation-changes-would-stri...