[NYTimes] Free Speech and the Internet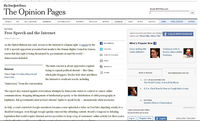 As the United Nations has said, access to the Internet is a human right. A report by the U.N.'s special rapporteur presented last month to the Human Rights Council in Geneva warns that this right is being threatened by governments around the world — democracies included.
The French and British parliaments have passed draconian laws that would ban users from the Internet for illegally downloading copyrighted material. [...]
The U.N. has proposed sound guidelines to defend free expression: censorship of content online must be transparent and enforced only through the courts. Governments should not rely on private entities like service providers to censor content and should not hold them liable for user content. Counterterrorism should not be an excuse to bar expression, unless it is to prevent imminent threats.