[NYTimes] France Rejects Plan by Internet Provider to Block Online Ads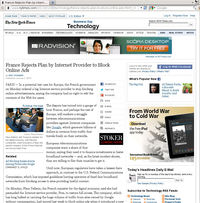 In a potential test case for Europe, the French government on Monday ordered a big Internet service provider to stop blocking online advertisements, saying the company had no right to edit the contents of the Web for users. [...]
"Should users be held hostage to these commercial negotiations? That is not obvious to me," said Jérémie Zimmermann, a spokesman for La Quadrature du Net, a group that campaigns against restrictions on the Internet. [...]
UFC-Que Choisir said it hoped that the latest twist in the dispute between Free and Google had demonstrated the inadequacy of existing net neutrality protections. Instead, the group is campaigning for legislation.
"More than ever, the public authorities must act in 2013 to guarantee consumers a neutral, quality Internet," wrote Alain Bazot, the president of UFC-Que Choisir. [...]
http://www.nytimes.com/2013/01/08/technology/france-rejects-plan-to-bloc...