[NPR and Washington Post] French Bill To Expand Spying Powers Is Criticized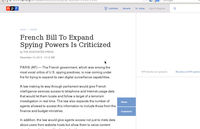 This article by the Associated Press about the French "law making its way through parliament [that] would give French intelligence services access to telephone and Internet usage data that would let them locate and follow a target of a terrorism investigation in real time. The law also expands the number of agents allowed to access this information to include those from the finance and budget ministries."
"In addition, the law would give agents access not just to meta data about users from website hosts but allow them to seize content stored on websites and in clouds. In at least some cases, agents could request information not just to combat terrorism but also to fight industrial espionage."
"Considering the recently uncovered evidence of massive and generalized spying on citizens, the maneuvers of the president and of the government deceive no one," said Philippe Aigrain, co-founder of La Quadrature du Net, a lobby that urges governments to protect personal data and Internet freedom. "This bill sets up a generalized surveillance regime and risks to destroy once and for all the limited trust between citizens and agencies responsible for security."
http://www.npr.org/templates/story/story.php?storyId=249951146
http://www.washingtonpost.com/world/europe/french-bill-to-expand-spying-...