[TheRegister] In EU-US data sharing we trust - but can we have that in writing, say MEPs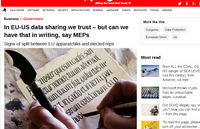 Signs of split between EU apparatchiks and elected reps [...]
On Tuesday evening, the so-called Umbrella Agreement was presented to the European Parliament's civil liberties committee by Paraskevi Michou, acting director general of the EU Commission's justice department, which led negotiations from the east of the Atlantic. [...]
Dutch MEP Sophie in 't Veld (ALDE) was also in favour of having the lawyers look at the small print, as she appeared to disagree with Michou's assertion that the deal would go further than the EU's own data protection proposals.
"I think we need a little more time to look at the text in detail," she said. "It is not just me; it is also the citizens of Europe who are entitled to know the status of this document. The protections are lower than the EU rules that we hope to adopt." [...]
http://www.theregister.co.uk/2015/09/16/eu_us_data_sharing_can_we_have_t...