[NYTimes] AT&T Helped U.S. Spy on Internet on a Vast Scale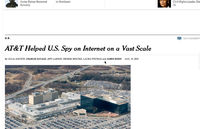 The National Security Agency's ability to spy on vast quantities of Internet traffic passing through the United States has relied on its extraordinary, decades-long partnership with a single company: the telecom giant AT&T. [...]
AT&T's cooperation has involved a broad range of classified activities, according to the documents, which date from 2003 to 2013. AT&T has given the N.S.A. access, through several methods covered under different legal rules, to billions of emails as they have flowed across its domestic networks. It provided technical assistance in carrying out a secret court order permitting the wiretapping of all Internet communications at the United Nations headquarters, a customer of AT&T. [...]
The companies' sorting of data has allowed the N.S.A. to bring different surveillance powers to bear. Targeting someone on American soil requires a court order under the Foreign Intelligence Surveillance Act. When a foreigner abroad is communicating with an American, that law permits the government to target that foreigner without a warrant. When foreigners are messaging other foreigners, that law does not apply and the government can collect such emails in bulk without targeting anyone.
AT&T's provision of foreign-to-foreign traffic has been particularly important to the N.S.A. because large amounts of the world's Internet communications travel across American cables. AT&T provided access to the contents of transiting email traffic for years before Verizon began doing so in March 2013, the documents show. They say AT&T gave the N.S.A. access to "massive amounts of data," and by 2013 the program was processing 60 million foreign-to-foreign emails a day. [...]
http://www.nytimes.com/2015/08/16/us/politics/att-helped-nsa-spy-on-an-a...