[Rue89] Faut-il avoir peur du grand méchant marché transatlantique ?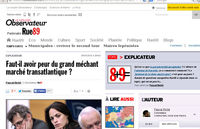 Le 10 avril, dans les salons luxueux de l'hôtel Shangri-la à Paris, doit se tenir un symposium d'hommes d'affaires à l'intitulé a priori très ennuyeux, « The Future of Transatlantic Trade » (« l'avenir du commerce transatlantique »).
Les ONG se mobilisent déjà contre ce qu'elles appellent le « sommet de la honte ». « Sommet » ? « De la honte » ? Les mots sont forts ! Ils reflètent les passions qui entourent le débat actuel sur le « partenariat transatlantique de commerce et d'investissement », alias TTIP ou Tafta, en cours de négociation. […]
L'accord risque de restreindre [les libertés publiques] de deux façons : d'abord, les défenseurs des libertés sur Internet craignent de voir l'Acta repointer le bout de son nez, la question de la propriété intellectuelle n'ayant pas été exclue du mandat de négociation.
Autre risque : que le traité facilite l'accès des entreprises américaines aux données personnelles des citoyens européens. […]
http://rue89.nouvelobs.com/2014/03/29/mobilisation-generale-contre-grand...
[Note : plus d'information sur la réunion du 10 avril sont disponibles sur le wiki de La Quadrature du Net, et la vidéo d'invitation à l'action en préparation est visible ici.]