[LeFigaro] Le blocage des sites de piratage jugé inefficace aux Pays-Bas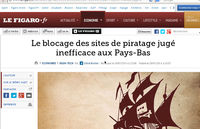 [...] C'est une petite victoire pour les adeptes du téléchargement illégal. Alors que de nombreux pays, dont la France, ordonnent le blocage de plateformes dédiées au piratage de films et de séries, la cour d'appel de La Haye vient ce mardi de lever l'interdiction d'accès au célèbre site The Pirate Bay au Pays-Bas. Motif? Cette mesure est inefficace!
«La Cour est partie du principe que ce genre de blocage à grande échelle est esquivé. Les abonnés de ces fournisseurs font en fait principalement usage de proxy ou trouvent la parade via des sites de torrent alternatifs», indique la cour d'appel dans un communiqué. En d'autres termes, rien ne sert d'empêcher l'accès par la porte, quand on peut passer par la fenêtre... Les fans de téléchargement peuvent en effet accéder aux sites interdits dans leurs pays en utilisant diverses méthodes, comme l'usage d'un proxy. Ce dernier revient à changer la «plaque d'immatriculation» de votre ordinateur, en faisant croire que vous vous connectez depuis l'étranger. Vous n'êtes pas aux Pays-Bas? Vous pouvez accéder librement à The Pirate Bay.
http://www.lefigaro.fr/secteur/high-tech/2014/01/28/01007-20140128ARTFIG...