[PCInpact] Quand la NSA déborde de son cadre de stricte défense des États-Unis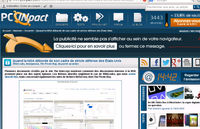 Plusieurs documents révélés par le site The Intercept [un site journalistique fondé par Glenn Greenwald] montrent comment des discussions internes à la NSA prennent place sur des sujets épineux. Les thèmes abordés englobent le cas de WikiLeaks, que nous avons abordé hier, mais concernant également les sites de fichiers BitTorrent, dont The Pirate Bay.
http://www.pcinpact.com/news/86024-quand-nsa-deborde-son-cadre-stricte-d...