[AFP] Bruxelles reporte à jeudi l'adoption de son "paquet télécoms"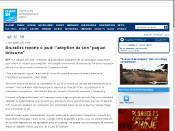 Le « paquet télécoms », ensemble de propositions législatives de la Commission européenne pour rendre ce secteur plus compétitif, sera adopté formellement et transmis au Parlement européen jeudi au lieu de mercredi, a annoncé la Commission mardi. […]
Les propositions qu'il contient pour assurer la « neutralité du Net », c'est-à-dire assurer un internet ouvert sans discrimination, sont particulièrement contestées par les acteurs d'internet. Selon cette source, cette section du texte pose des « problèmes techniques et juridiques » et pourrait in fine être retirée du projet.
Les défenseurs d'un internet ouvert, comme l'association française La Quadrature du Net, accusaient depuis plusieurs semaines la Commission de céder aux pressions des industriels des télécommunications en permettant aux opérateurs de fournir des conditions de trafic privilégiées aux principaux acteurs d'internet, comme Google, ce qui va, selon eux, à l'encontre du principe de neutralité du net.
http://www.france24.com/fr/20130910-bruxelles-reporte-a-jeudi-ladoption-...
MÀJ : D'après un article publié par PC World, une source proche de la Commission aurait déclaré que le texte allait finalement être adopté mercredi ("Later, Commission sources said that an accord had been reached and that the text would be formally adopted on Wednesday after all.").