[NewScientist] Nest thermostat acquisition is Google's home invasion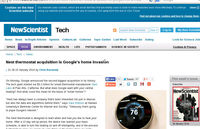 On Monday, Google announced the second-biggest acquisition in its history. The tech giant shelled out $3.2 billion for smart-thermostat manufacturer Nest Labs of Palo Alto, California. [...]
[Sara Watson at Harvard University's Berkman Center for Internet and Society] "Imagine Google Now knows you're on your way home," suggests Watson. "The thermostat can predict that you're going to be home in 10 minutes and it can get the heat going." [...] "Google's entire data policy skews towards a consolidated view of one consumer. It seems pretty likely that that would be a future direction for any acquired company of Google's," she says.
Whether or not that does happen, some are already expressing concerns over how smart-home companies might "profile" those who use their technology. [...]
http://www.newscientist.com/article/dn24881-nest-thermostat-acquisition-...