[NetworkWorld] European net neutrality law clears committee hurdle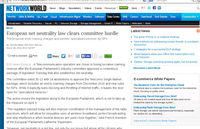 The [European Parliament's industry] committee voted [...] to approve the Telecoms Single Market package, which includes an end to roaming charges from December 2015 and new rules for ISPs. While it explicitly bans blocking and throttling of Internet traffic, it leaves the door open for "specialized services."
[...]
"Today's vote is a sign of the massive lobbying influence of big telecom operators over the European legislative process. The regulation's big loopholes will have to be corrected when the European Parliament casts its final vote in a few weeks," said Miriam Artino, legal and policy analyst at La Quadrature du Net.
http://www.networkworld.com/news/2014/031814-european-net-neutrality-law...