[NetworkWorld] EU net neutrality seen in peril from draft law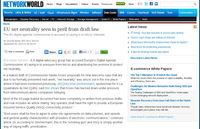 A digital advocacy group has accused Europe's Digital Agenda Commissioner of caving in to pressure from telcos and abandoning her promise to protect net neutrality. […]
"End-users shall be free to agree to enter into agreements on data volumes, and speeds and general quality characteristics with providers of electronic communications," continues article 19. According to Zimmermann, this is the "smoking gun" and Assured Service Quality (ASQ) is simply another way of saying traffic prioritization.
"The Commission would be giving telecoms freedom to enter into business deals with big content providers such as Google or Facebook to prioritize their data flows over the Internet. Such a corporate power-grab would relegate the rest of citizens and new-entrant innovators to a slower Internet with disastrous effects for freedom and innovation online," said Zimmermann. […]
http://www.networkworld.com/news/2013/090313-eu-net-neutrality-seen-in-2...