[ITPro] EU rejects file-sharing laws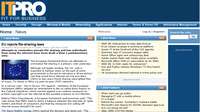 The European Parliament threw out attempts to criminalise file sharing in a plenary vote yesterday.
Although not legally binding, the 'no' vote is expected to hamper plans on the part of some governments in Europe to introduce a 'three-strikes' rule that would force internet service providers (ISPs) to ban users found sharing copyrighted files of music, TV shows or films via peer-to-peer (P2P) networks. [...]
Malene Folke Chaucheprat, a European Parliament spokeswoman said: "The vote shows that MEPs want to strike a balance between the interests of rights holders and those of consumers and that big measures like cutting off internet access shouldn't be used."
http://www.itpro.co.uk/news/186843/eu-rejects-filesharing-laws.html