[IPTEGRITY.com] Should MEPs open up the Package?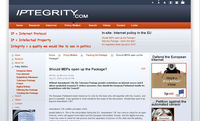 Without Amendment 138, the Telecoms Package permits restrictions on Internet access and it allows graduated response/3-strikes measures. How should the European Parliament handle its negotiations with the Council?
The European Parliament meets tomorrow to vote for the team who will negotiate with the Council, and give it a mandate. A key question is what should be the scope of the discussions. Should they open it up beyond Amendment 138? [...]
http://www.iptegrity.com/index.php?option=com_content&task=view&id=412&I...